There is a way that seems right to a man, but the end thereof is destruction. Proverbs 14:12
The question is, which way is right and does not lead unto destruction and death? It is the way of the Bible which is God's word.
My brethren in Christ, of whom we are of equal in fellowship; I beseech you to search for God and the true ways of God while you still have life.
And if you have God in you already, knowing it for sure and not just in belief, never not stop spreading the truth, especially to those who worship God in falsehood. For it is hard to think, that a man has lived all his years in the Christian Church, but when he shall die, he be counted amongst the haters of God.
May God judge me if I write these things to bring down any man or Church. May God be my judge if there be another motive other than, that men may know and be cautious about the true ways of the Bible and be not deceived. And also that men in the Church may find God while they still have life.
And I have faith in the Holy Ghost my Master and Jesus my Lord that He would save men from darkness and doctrines of Satan and men.
---
Having written about the Idolatry in the Church of the Romans and other Churches, and having also told of the origin of these idolatry, there is yet an untold reality. And it is about the level of idolatry in the Catholic Church.
I have said, that it is when men can no longer trust the unseen spirit God that idolatry sets in. And also, It is the lack of the knowledge of God that causes men to delve into paganism and idolatry even as Church goers who hold unto the Holy Bible.
Brethren, sin, wickedness and evil grows; I tell you the truth- it grows exponentially.
Accept a gay into the Church, and in 2 years there are five(5) – ten(10) gays in the Church causing an even larger number to derail.
Tell a single lie or break the law and you would be telling 10 more lies to help cover it.
Commit adultery and you would soon count the number of adultery and abortions you have done.
Accept a form of pagan worship and you will soon be counting the pagan gods and system in the Church; like wise idolatry. The more we commit these sins, the more we are given away to greater heights of them.
Therefore the only way that leads to life is total abstinence from what is wrong, sinful and unbiblical.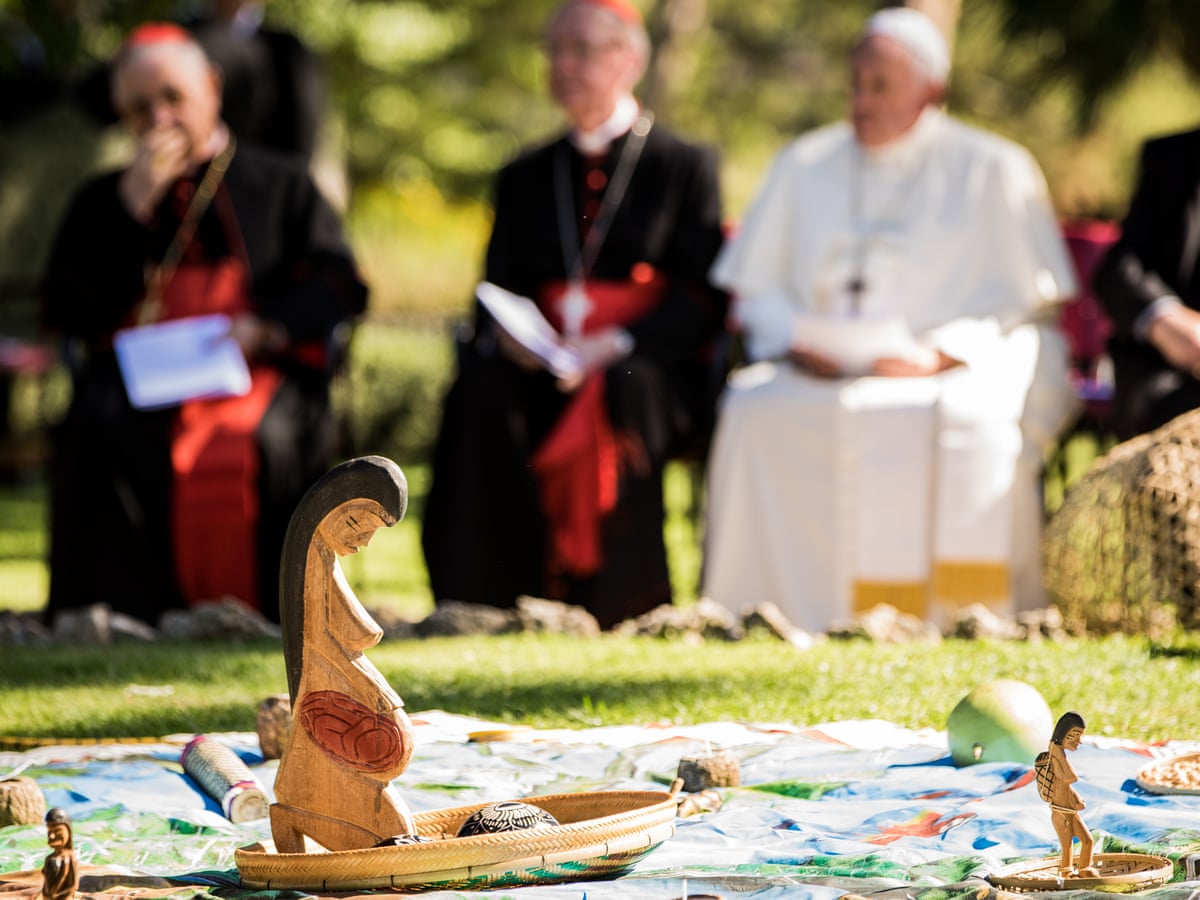 Many more forms of idolatry and all sorts of wickedness has been brought into Catholicism just because; sin grows to great heights. It does not wake up to vanish, but strengthens itself as long as we remain in it.
Apostle Paul said in Romans 1:20-22, Brethren Read Carefully;
18 For the wrath of God is revealed from heaven against all ungodliness and unrighteousness of men, who [d]suppress the truth in unrighteousness,
19 because what may be known of God is manifest in them, for God has shown it to them.
20 For since the creation of the world His invisible attributes are clearly seen, being understood by the things that are made, even His eternal power and Godhead, so that they are without excuse,
21 because, although they knew God, they did not glorify Him as God, nor were thankful, but became futile in their thoughts, and their foolish hearts were darkened.
22 Professing to be wise, they became fools, 23 and changed the glory of the incorruptible God into an image made like [h]corruptible man—and birds and four-footed animals and creeping things.
24 Therefore God also gave them up to uncleanness, in the lusts of their hearts, to dishonor their bodies among themselves,
25 who exchanged the truth of God for the lie, and worshiped and served what is created rather than the Spirit Creator, who is blessed forever. Amen.
Therefore I am not wrong. When men engage in sin and this time, idolatry, they are given away and taken deeper to these.
1. The worship of Santa Muerte (Demon of Death)
Called Saint of death by the Roman Catholics and widely known in Mexico, this pagan idol is a representation of death.
Although the Catholics in general and Mexican Authorities have rejected it, it has become difficult to stop men from seeing it as an object of reverence and worship like other idols which they have.
Men pray and seek protection from these things. They seek help from it and from anything visible but from the spirit God who lives above and in whom there is true help and power to overcome death. All this is because they know not God nor do they know His ways. They have grown to believe in protection from what they can see instead of the name of Jesus wherein we have all the protection and support we need.
Such is the truth I speak; that evil begets greater evil; sin begets greater sin, idolatry begets greater idolatry.
This is evil, it is wickedness and God will not overlook. Yes! He will remember.
2. Pachamama Idol Worship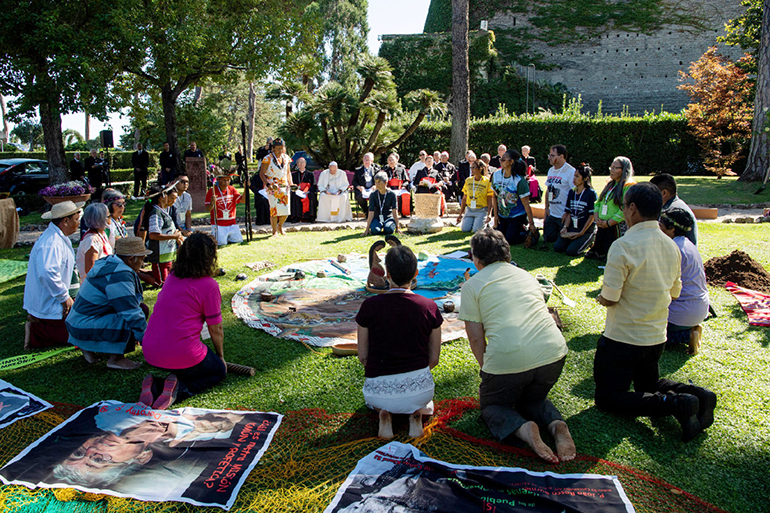 Pachamama is a goddess revered by the indigenous peoples of the Andes. She is also known as the earth/time mother. In Inca mythology, Pachamama is a fertility goddess who presides over planting and harvesting, embodies the mountains, and causes earthquakes.
Brethren observe the trend, prior, it was idols of bible characters but as the years go by, it has entered pure pagan idols.
When men do not put an ancient and biblical land mark, these things are bound to happen.
The Eye of Horus
Egypt is the birth place of witchcraft in the world. And even now, spiritually, the ancient powers of Egypt remains and these things are spiritually discerned.
Horus is an ancient Egyptian god believed to be one of the strongest gods of ancient Egypt.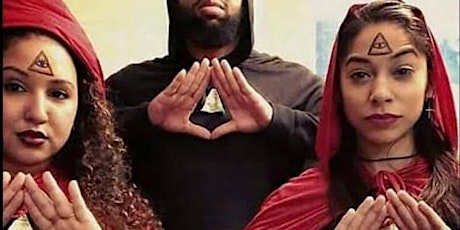 His eye is believed to provide protection by his worshippers. It is normally called the 'all seeing eye' or the eye of providence. It has also become a symbol of the illuminati/Satanists and the free mason occult plus the New World Order.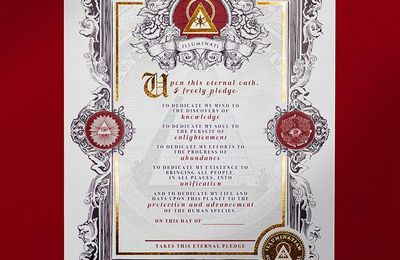 These things are not hidden. They are truths visible to all who are for, and belong to the truth.
But the question is, why would these things also be found in a Church of God? Why would men who claim to belong to God have these things amongst them? The pictures below speak volume.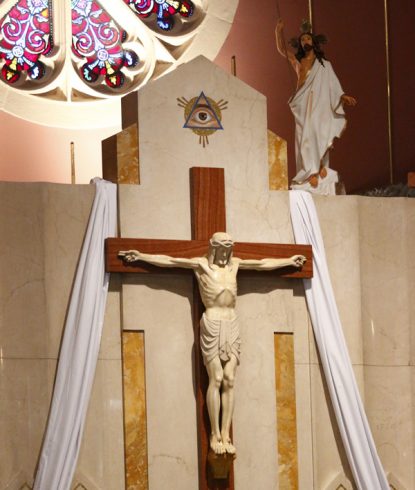 As can be seen from the Images above, somehow, somewhere these things have become part of the Roman Catholic Church.
Does light and darkness have anything in common? No! Of course not. But Men who don't have God, men who don't know God have done this wickedness to deceive the people of my God. A people who does not make time to see with their eyes that there is a biblical standard to the worship of God.
These things where not there from the initial stage of Christianity even of the Roman Catholic. But as I have pointed out, one evil begets another. Because they did not trust God and the Spirits power, they were given out to all depravity of the mind and deceptions by wicked spirits and evil men.
Pagans say the eye of Horus is all seeing and gives protection and providence, brethren, shall a Christian man seek protection from the eyes of a pagan god? Do we not see the level of idolatry and paganism in the present Catholicism? And know we not that God will not pardon men who do these evil things? Yes! He will remember.
Conclusion
Evil begets evil brethren, wickedness begets greater wickedness. We must ask ourselves, if the idolatry and paganism is growling to heights of accommodating satanic elements, symbols and idols, what would be done in 50 years coming if Jesus tarries? Surely it would be hard to think of.
This is a wakeup call with which I would like to close the idolatry episode of the Roman Catholic Church. I eagerly beg all Christian men to run away from idolatry and all forms of unbiblical system of worship, that REVIVAL may happen to us in one Spirit and one Power in Jesus' name; Amen!